Sapphire Stardust

D.O.B: July 04, 2006
Colour: Blue Silver Classic Tabby
Breed: Moggie
Gender: Queen
Info: I got Saphie in November of 2006 from our humane society. They gave her the name Sapphire, and I added Stardust. She is extremely photogenic (except above, though that's not a bad photo of her it's not as good as some of the others I've captured), very friendly and outgoing. I walk her on a leash and she likes to ride in the car, and pull things off the shelves at petsmart then ride in the shopping cart after I tell her to stop. She will go for walks down the street but the term must be applied very loosly for we hardly ever go in a straight line or get very far for we are very interested in rubbing on trees for hours and rolling in flowers and meowing at the birds in the trees that we can't figure out how to hunt. Everyone who meets her, loves her, and says she is the most chill cat that ever existed. I used to take her to work with me in the evenings when I closed and she would love it. She could have cared less that there was a gaggle of dogs just behind the door in the other room. The only thing that bothered her was when clients would come in and not pet her immediately, because of course she was the most gorgeous thing on the counter.
Sasha

D.O.B: October 31, 2003
Colour: Tortoiseshell
Breed: Moggie
Gender: Queen
Info: I found Sasha in a trash can in my former neighborhood, starved and suffering from severe mastitis in late spring of 2007. She's quirky and weird and laid back and friendly all at the same time. She definately has what breeders refer to as "torti-tude". xD She is also missing half her tail, the vet and I are pretty sure she was just born like that. She's pretty specific about who she likes and doesn't like, but usually gets along fine with everyone she meets. Sasha is so chill for being on the street for four years. She really likes to ride in the car, and is okay with going into pet stores, though doesn't want to walk around, just likes to ride in the cart and meow at people.

Cosmo

D.O.B: May 1, 2009
Colour: Blue mackerel tabby with mitted white
Breed: Moggie
Gender: Queen
Info: Cosmo's mother left her in my yard at my old apartment in the middle of a rainstorm in June of 2009. I attempted to rehome her until August, when I suked it up and got her spayed and kept her. I know her whole family, and I know she is somehow related to Sasha because Cosmo is also from the same little colony. I know she was born sometime in May, so I made her birthday Mayday, which is appropriately fitting for her loony little temperment. Cos has a lot of health issues, and so is a fairly nervous/skittish cat. Everything is under control right now but she really hates the vet, not that I blame her, but I can't take her anywhere because she gets so worked up that she is going to the vet. ): So she just stays at home and gets love and attention and good things. :)

Caelestia Holiday

D.O.B: October 8, 2009
Colour: Liver Pigmented Recessive Red (eeRed)
Breed: Cocker Spaniel x Australian Shepherd (DNA tested)
Gender: Bitch
Info: Last year, the day before my birthday my friend texted me with Celest's photo saying "Happy Birthday I found you a dog!" So, needless to say best birthday present ever. Come to find out, they'd found Celest in her neighborhood when they went to get a stray dog that my friend had seen that day and gone to visit that night to make sure he was okay. So, Caelestia means "from the stars", as I felt the circumstances warrented it. To make a long story short, I took her home on October 8th, two days after my birthday. She had heartworms, and getting over that was awful, heartwrenching literally and figuratively, and very upsetting. She was such a mess when I got her, and she's come so far since then. Her allergies are under control finally, her haircoat is all nice and shiney and soft, and you would never know that she had pnumonia or heartworms the way she runs around like an idiot all the time. Her favourite things to do include, but are not limited to: making friends at the dog park, rolling in mud or water and then dirt, going swimming, doing everything she can with me, screaming/howling when no one is paying attention to her, riding in the car, sleeping on my bed, dropping her nylabone on me, and singing with me when I'm in the shower. Needless to say she's a lovable ball of happy energy and fun, but the second I sit down on my bed (or go anywhere near it) she jumps up and curls up and goes to sleep. Really she just wants to be with me, and be everyone's friend. She's totally a dog version of me, so obviously we are great together.
Oh and she ADORES her kitties.
Stingray

D.O.B:
April 1, 2011
Colour:
Blue with spotted white
Breed:
Moggie
Gender:
Tom
Info:
I first met him on a Friday after my lunch when his first owner brought him in to be rehomed (she could no longer keep him). My coworkers and friends talked me into taking him home, but I still thought about it over the weekend. He fits in so well, though, and I don't regret it a bit. He's still new to us but we love him to bits, and he gets along with everyone and likes to go to the petstore and to ride in the car. He's named after the
Stingray Corvette
because it's a sweet car, and goes with my accidental C and S name thing I have going on. I'm so happy I got this cat, though I had my doubts I am just loving every second with him. He just fits in so well and is so lovable and hugable.
Tags!

(Yes, I'll buy tags of these kids. xD)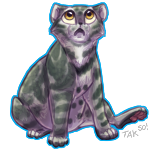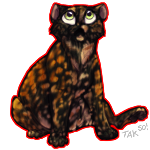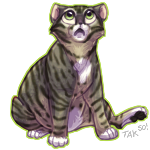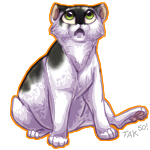 ---
Photographs on this page are copyright J. Burns.
Not for public use! Do NOT use for any reason, whatsoever.
Tag art is NOT for public use either.

---